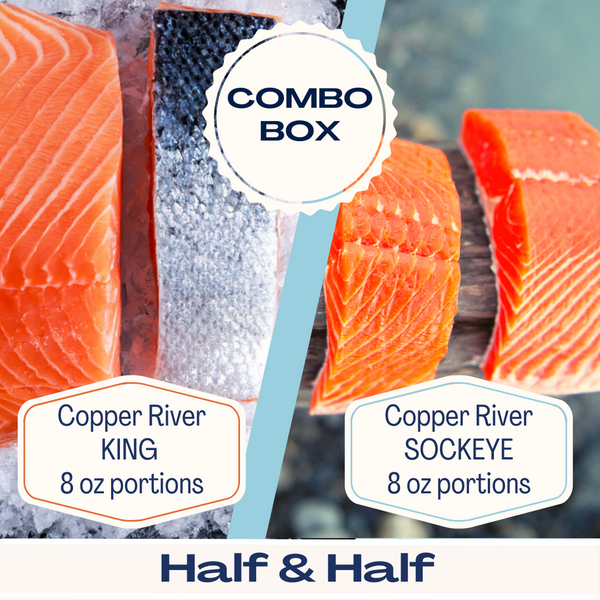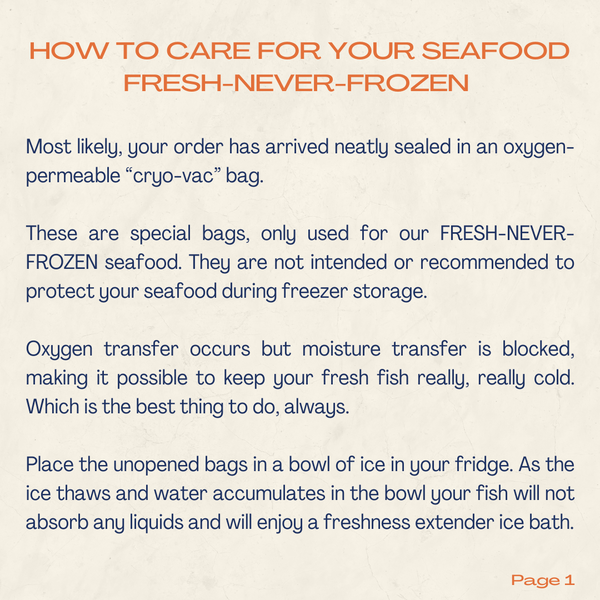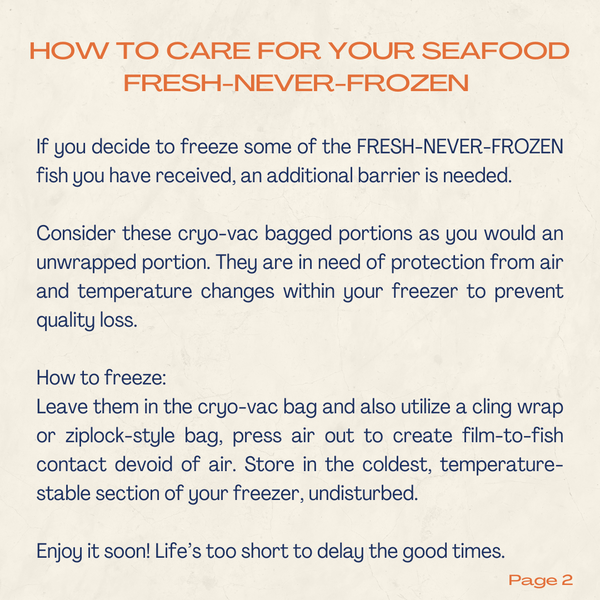 FRESH-NEVER FROZEN
WILD ALASKA COPPER RIVER SALMON
COMBO BOX: KING + SOCKEYE
We ❤️ you! While at sea, we hand-select the finest Copper River Salmon from our catch, especially for our online customers.
***Please read below for important details ***
This is

not

a frozen product order.
Route Insurance is an additional fee and is highly recommended.
The delivery week is

anticipated

and subject to change based on catch abundance and the timing of our wild salmon run.  
Orders are fulfilled in the order in which they are received.
Prices are subject to change and follow market pricing.
You are locking in your price with a pre-order.
Increased order size results in a lower price per pound.
FedEx Express shipping is included.
Route Insurance is an additional fee and is highly recommended.
Orders will be shipped with "no signature required" and left unattended at the time of delivery, never the less some delivery agents will seek out a signature. If at all possible being available the day of delivery is advised.
We also advise selecting the Route Insurance option for a quick hassle-free replacement or refund on shipments that are lost, damaged in transit, or suffer a delay that results in spoilage.
If Route Insurance is not utilized at checkout, we will do our very best to pursue a claim with the delivery carrier on your behalf. Their determination process is long and can have a disappointing outcome that we have no sway over.
Product listing details are subject to change. 
🐟❤️😁
Your order includes...
Premium Cuts of our finest Copper River King AND Sockeye Salmon
Your order will be a 50/50 split, as close as is humanly possible. 
Approximate 8 oz, hand-cut portions. (2) 8-oz portions equal approximately 1 pound.
We do not make up order weight with trimmings as some of the large distributors do. All our cuts are worthy of praise.
Orders may be fulfilled with cuts of varying size and piece count so that we may get closest to the exact weight of your order.
Every fish is unique and we do our best to cut and trim in a way that celebrates this.
Each portion arrives neatly sealed in oxygen-permeable bags perfectly suited to being nestled, unopened in a tray of ice in your home refrigerator until ready to prepare.
The oxygen-permeable bags are not intended to be freezer friendly. They will not protect your prized fish. If you intend to freeze, please utilize a vacuum sealer or press as much air from a zip-lock-style bag as humanly possible.
Copper River Fish Market offers an unparalleled quality that is just not possible to duplicate within the modern, high-volume output, industrialized seafood supply chain. 

As fisher(wo)men and fishermen at the source, we work our behinds off to provide you with the epitome of quality and care in handling that we feel these fish deserve. 

I baked some of your Sockeye salmon at a really low temp on fresh lemon slices and garden herbs, it was a religious experience! I want more!!
Sarah M.
Thank you very much for the salmon it is excellent! So much so, that I am ordering some more.
Johanna N.
Always the freshest, always the best. Rick and Sarah never fail to deliver the goods!
Noah S.