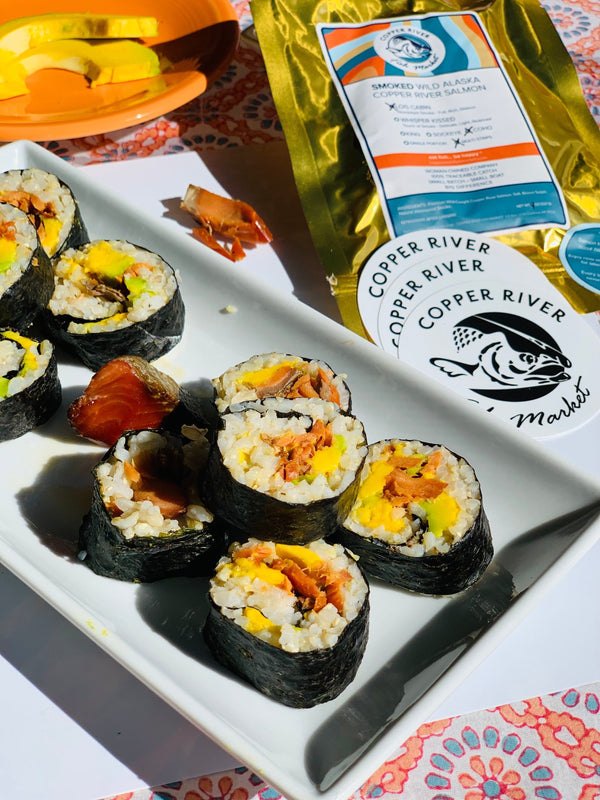 Pantry Item. No refrigeration is needed for storage. 
Wild Alaska Copper River Salmon: SOCKEYE
These pouches are a flavor treat and a nutritional boost. Full of vitamins and minerals and pure ocean protein. A perfect pantry staple!
Only 3 ingredients, 4 if you count the smoke

Ingredients: wild-caught Copper River Salmon, salt, brown sugar, and natural real alder-wood smoke

Nothing artificial. No added nitrates, nitrites, oils or coloring.

Keeps in the pantry unopened for years; refrigerate

after

opening and use within 5 days or less. 
LOG CABIN: Full, Rich, Distinct
Our Log Cabin smoke-style (Sockeye) was a top 5 finalist in the 2022 Good Food Awards!
Our Log Cabin smoke-style is the flavor of Sarah's childhood and she is so pleased to share it with you! Prepared in the regional style of the remote South Central Alaska coastline's earliest inhabitants* and a replica of the tastes and textures produced in the backyard family smokehouse, this is a flavor you will crave after you have tried it. 

Cut into strips (4-5 per package)during the smoking process to allow the sweetness of sugar and savoriness of salt to penetrate, while also giving more surface area for the wood smoke to circulate and encapsulate each cut.
Try it on a bagel with cream cheese or sprinkled atop a rich chowder or added to a deep dish quiche. The smoky flavor will shine through even when paired against robust cheeses or deeply flavored oatmeal stout. Log Cabin is the boisterous and outspoken big sister of our demure and soft-spoken Whisper Kissed smoked-style. 
* This is the salmon smoking tradition Sarah was raised with, but culinary credit absolutely must be given to the indigenous earliest inhabitants of the Copper River Region. The town of Cordova is located on the Eyak People's lands. The outflow of the glacial-fed Copper River Watershed spills from here into the open Gulf of Alaska ocean sustaining wild salmon and surrounding inhabitants for thousands of years. Learn more about the Eyak People here.
I baked some of your Sockeye salmon at a really low temp on fresh lemon slices and garden herbs, it was a religious experience! I want more!!
Sarah M.
Thank you very much for the salmon it is excellent! So much so, that I am ordering some more.
Johanna N.
Always the freshest, always the best. Rick and Sarah never fail to deliver the goods!
Noah S.